Wood cutting at the Camp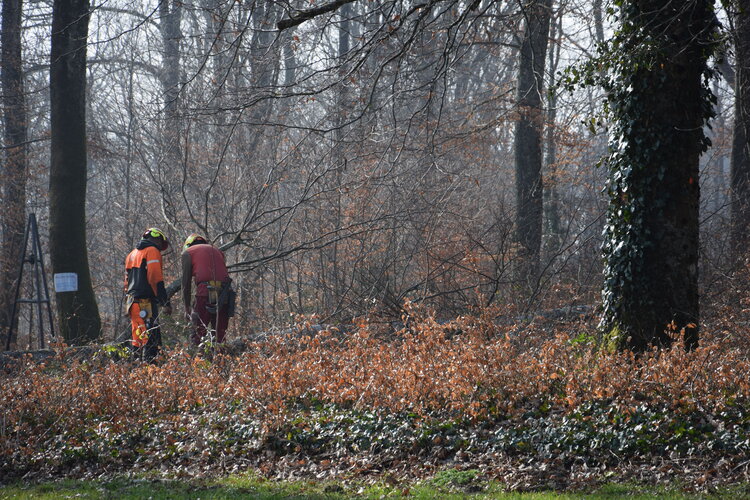 Forest maintenance before the arrival of the high season
This week, the loggers and the forestry service carried out a major wood cut in the neighbouring forest belonging to the Camp Foundation.
Some old and damaged trees were in danger of collapsing. It was therefore important, for safety reasons, to carry out this work.
In addition to removing potentially dangerous trees, it will also allow new growth and plantations to have more space and resources to develop.
Some of the cut wood will be chipped, and will be used on the floor of some of the play areas on the site. Another part will be used as firewood in our houses, especially in the Zwingli house. We can say that we produce our own resources.
This work was carried out during the low season, so as not to disturb our guests and to allow everyone to be safe outside the Camp. In particular, pedestrian access to the forest was prohibited.
Neuchâtel Tourist Card: unique in Switzerland!
From 1 night onwards, visit the Neuchâtel region for free.
This card offers you many advantages, including free public transport in the canton.
As a partner accommodation, your stay at La Fondation Le Camp entitles you to the Neuchâtel Tourist Card. Indeed, from one night spent with us, you will receive a multitude of free benefits:
Public transport
Museums
Daily bike rental
Cruise on the lakes of Neuchâtel and Les Brenets
Ride on the Buttes-La Robella chairlift
How does it work?
When you arrive, ask for your Tourist Card and those of the participants at the reception. It is best to inform us in advance to save time. We will also be happy to send you your card before your stay, so that you can use it on the day of your arrival. The Tourist Card is dated and stamped by our establishment. It is valid for the duration of your stay.
This is another good reason to stay at the Camp!
For a list of benefits (PDF) and more information: www.j3l.ch
Christmas Market 2021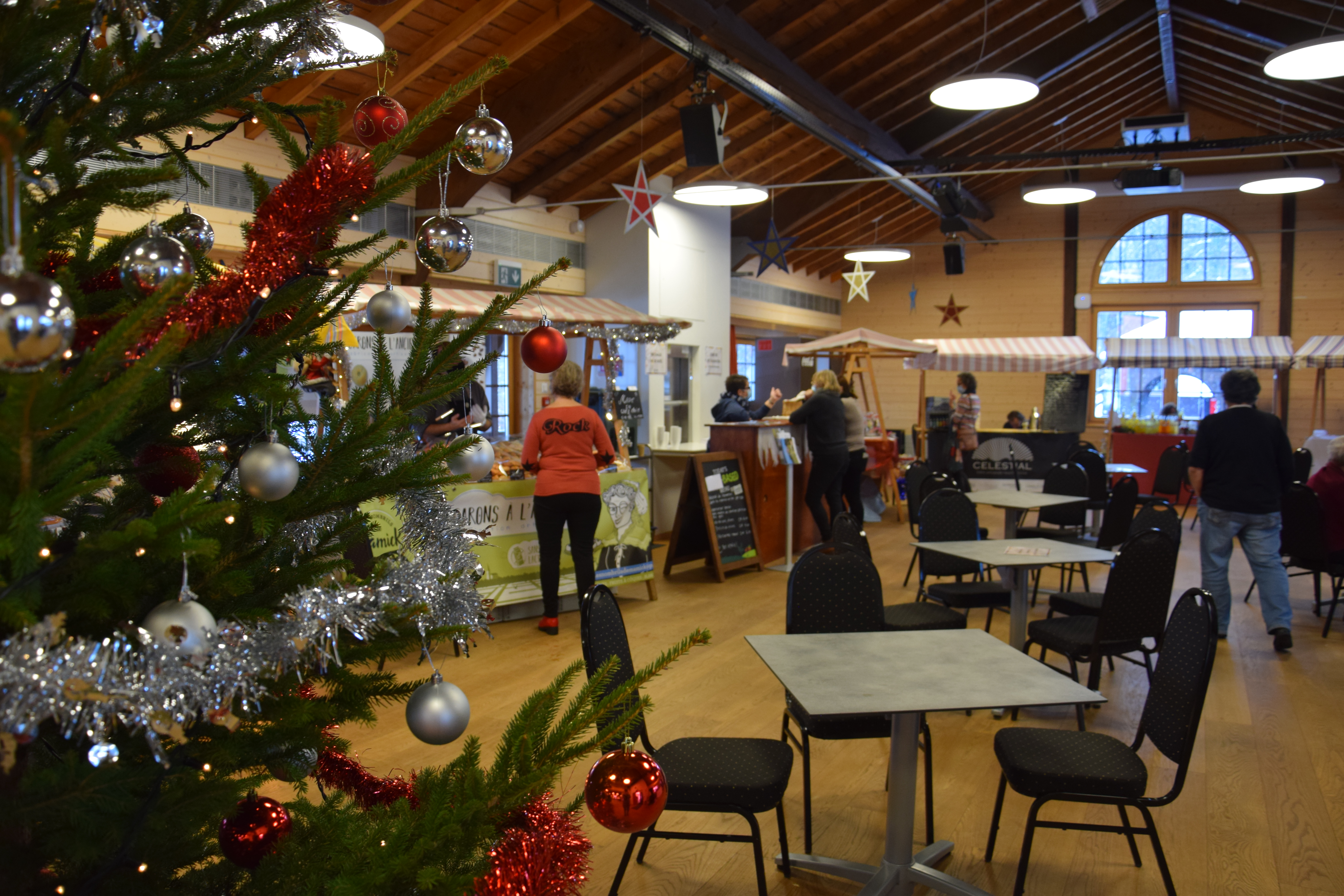 Our Christmas market was held on 11 and 12 December in our facilities in Vaumarcus.
During this edition, more than twenty exhibitors presented their work and products to some 300 visitors. The Fondation Le Camp was pleased to welcome these people despite the sanitary conditions.
Our local artisans presented a variety of handmade products to a warm and local clientele. From chocolates, liqueurs and craft beers, the food section offered a wide choice of quality gifts or treats to take home. The same goes for the wooden products, which ranged from pens and dishes to vases and hand-carved decorations. Other handicrafts such as pottery, jewellery, leather bags or Fimo decorations completed the offer. A wide range of quality products was on offer to customers over the two days.
As far as the organisation is concerned, the low number of visitors due to the snow and the sanitary restrictions means that we will have to increase our communication for next year, but we are nevertheless delighted with this edition.
The Christmas atmosphere reigned at the Christmas Market and at La Fondation Le Camp during the whole weekend and we are already looking forward to the next edition!
Christmas Market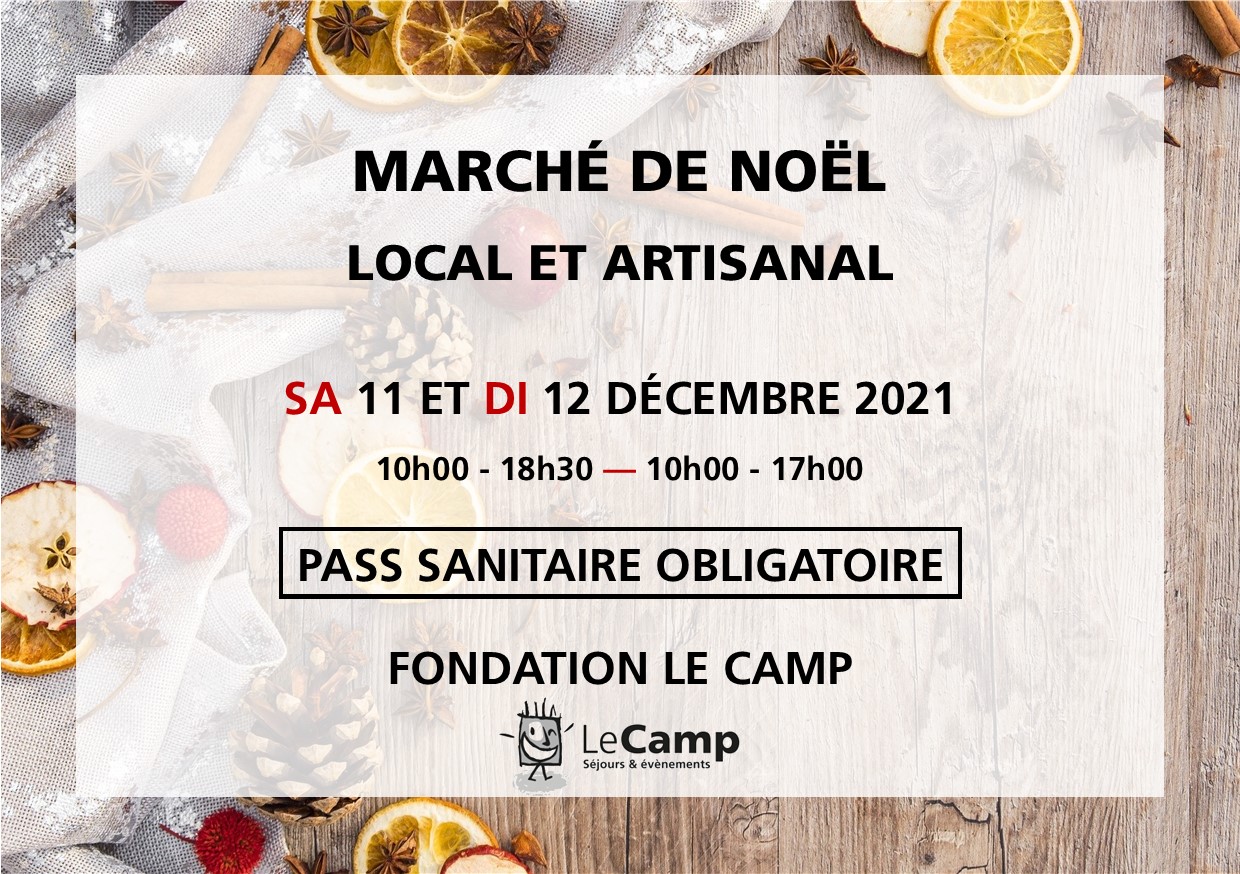 On 11 and 12 December 2021, "La Fondation Le Camp" is organising its local Christmas and craft market
For this occasion, we are still looking for exhibitors interested in having a stand at our covered market. For more information, please contact us at This email address is being protected from spambots. You need JavaScript enabled to view it.
The market will be accessible to people with a COVID Certificate, but it is still a great opportunity to meet in a friendly atmosphere.
After several years without a Christmas market, "La Fondation Le Camp" is delighted to organise this event again. With the aim of offering a sales space to local craftsmen, the market is also a great opportunity to meet up around the end of the year and share a moment of conviviality. As mentioned, it will take place on 11 and 12 December 2021 in the premises of La Fondation Le Camp in Vaumarcus, and will offer stalls of local and artisanal products as well as small catering.
The market will be accessible on presentation of the COVID-19 certificate and an identity document (for people aged 16 and over). Once inside, it will not be necessary to wear a mask.
We look forward to seeing you all there to celebrate the magic of Christmas!